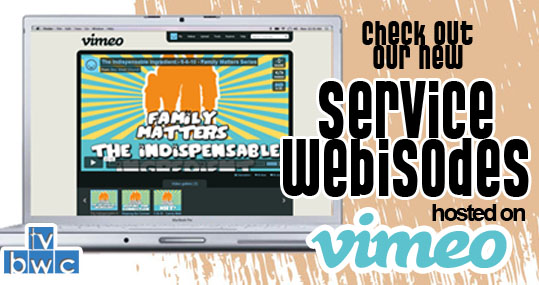 NOW mobile video versions of the messages available from vimeo on your iPhone or iPad! Read about it here at the vimeo site and see what's up!
Download the vimeo app from the iTunes app store and watch the messages you miss or want to watch again on the go on your iPhone or iPad.
You can now see our video webisodes hosted now on vimeo.com. You can view them one of three ways:
1) Click on the "podcasts" icon on the bottom left of our home page

and from the next page, click the "TV" icon from our list of online sermons.



2) You can view them when they import into Facebook on our Bay West Church fan page at www.facebook.com/baywestchurch - and join our fan page while you are there or share the video on your feed.
3) You can subscribe to our vimeo channel at http://vimeo.com/channels/baywestchurch.
We hope you this service is helpful and beneficial for all of you.