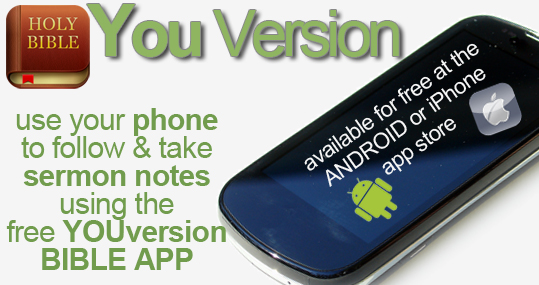 Use the YOUversion free bible app to follow the message outlines, see the relevant Scriptures and to take (and email yourself) sermon notes during the service. There are versions for iPhone, iPad, and Android devices.
Click here for a video overview of the app and how to use it to find Bay West's notes on Sundays (use your GPS on your phone or type in "32907" - Bay West zip code).
Click here for info on the app itself and to find out how to download it OR you can just go to the appropriate app store for your phone and search for "youversion bible" (it's the one from "lifechurch.tv") and it's FREE.
Start using it THIS SUNDAY!
Troubleshooting:
1) My GPS won't lock in
Type in "32907" or "Palm Bay, Florida" in the search bar and that will retrieve it in our area.
2) There is no listing for Bay West Worship Gathering or any notes or live events.
We don't launch the event until Saturday night late, so if you look during the week for the upcoming Sunday, you may not find it yet, because we haven't launched it. It will be there on Sunday. Why do we launch it so late? So you won't go do your own study on it and totally stand up and blow Jim out of the water with your tremendous Bible knowledge on Sunday...he's sensitive about that. :)