Our Community Impact Team at Bay West and our Missions Team for FBC as a whole work together to identify opportunities to serve Jesus by serving the world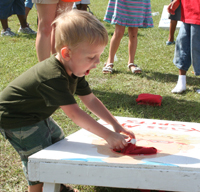 and His creation. Whether it's working to clean up a park out of kindness or travelling to another country for disaster relief or teaching children in Romania about the Savior that we all love, we are intentional about not only talking about Jesus, but "being" Jesus to the people in our circle of influence an
d beyond. We have learned from our bible study that God, in Isaiah, tells us to live for the shalom of the city around us and that's more than peace, it's more like "well-being" of the city.
You can check out some of the projects upcoming to be a part of changing our world for the positive listed on this page.
Please feel free to give online to these mission trips or our other missions endeavors worldwide or stateside.
FBC Melbourne Missions Trips 2012:
Sept 13 - 23 - West Virginia Mission Trip
July 19 - 30 - Romania Mission Trip
July 22 - 28 - Students to West Virginia
July 23-30 - Nicaragua Mission Trip
Sept 8-15 - Panama Mission Trip (College/Young Adult ministry)

Heritage High School Pencil Offering - providing over 4000 pencils for the students at Heritage High School

BW T-shirt Project - the proceeds from our BW T-shirts are going to pay for the materials to build a clean water solution for a remote village in Nicaragua.